Prof. Alina V. Chervinskaya, M.D., Ph. D.
Dear friends and colleagues,
For more than 20 years, I have worked in the field of preventative, restorative, and rehabilitative medicine, pulmonology, and physiotherapy. My scientific and medical work has been devoted to the criteria and methods of early diagnosis of respiratory diseases, the development and implementation of a comprehensive system of preventative and restorative treatment of diseases affecting the respiratory system, and the development of new medical technologies and the evaluation of their effectiveness.
I have designed the methods of controlled Halotherapy and bio-controlled air ion therapy, which have been introduced into medical practice and are used effectively by numerous medical institutions. I give lectures to doctors on the topics of rehabilitation in pulmonology, physiotherapy, aerosol medicine, speleotherapy, Halotherapy, air ion therapy, and nebulizer therapy, as well as on controlled respiratory environments. I would like to share my research and practical experiences with my colleagues, and likewise with all people who care about their health and would like to receive reliable information from experts.
The priorities of my scientific research and medical practice are the use of natural treatments in modern medicine and rehabilitation. As a pulmonologist and scientist, it is this that I want to draw the attention of the audience to.
Current Issues
Diseases of the respiratory system are one of the most common illnesses in modern society. The seriousness of respiratory diseases, both in terms of medical and social effects, is extremely high indeed. These include asthma, chronic obstructive pulmonary disease (COPD), bronchitis, pneumonia, bronchiectasis, and cystic fibrosis. Among non-communicable diseases, they are one of the leading causes of frequent sick days, disabilities, and deaths.
Research and findings from experts suggest that the most significant factor causing the high prevalence of diseases affecting the respiratory system is environmental air pollutants that enter the respiratory tract. Scientific projections suggest that the two leading types of diseases in the 21st century will be caused by allergies and environmental factors. And these will primarily be respiratory diseases.
Recognized achievements in the pharmaceutical industry and medications will not be able to stop the steady growth of the diseases in our civilization. More and more people are becoming aware of the harm being caused to their health by the environment, and are looking for safe and effective methods of protection and improvement. In recent years, and perhaps largely for this reason, people have demanded treatment through safe, non-medicinal means. Medicus curat, natura sanat — A doctor treats, but nature cures.
Contributions to the Development of Halotherapy
Physiotherapy and non-medicinal methods have a long history of use in Russia. I became familiar with many of them and used them in treatments while working at the All-Union Scientific and Research Institute of Pulmonology in Leningrad (now St. Petersburg). Among them are fasting diet therapy, various types of breathing exercises (Buteyko, Strelnikova, etc.), acupuncture, electro-acupuncture, various types of massage and manual therapy, hot body wraps, auto-hemotherapy, and hirudo medicinalis. Of course, being a pulmonologist, I am especially interested in inhalation therapies. We use the inhalation of saline solutions, mineral water, herbal remedies, warm humid air, and so on.
I became very interested in inhalation therapy using natural treatments. It was at that time that I first found out about speleotherapy. The Institute had scientific links with the Uzhgorod Scientific and Research Institute of Balneotherapy (Trans-Carpathia, Ukraine), and we sent asthma patients to an underground salt speleoclinic in Solotvino (near Uzhgorod). That speleoclinic had been built in a former salt mine at a depth of nearly 300 meters.
Observing patients undergoing a round of treatment, we studied its effectiveness and fine-tuned the recommended uses and warnings of using speleotherapy. Many patients liked the non-medicinal method of treatment, as they felt relief from the diseases' symptoms, and it decreased the amount of medication they needed to take.
However, there were drawbacks. Primarily these were the inevitable period of acclimation, as well as the difficulties and complications connected with being underground. In some cases, the patients became worse after they returned home. One limitation of speleotherapy is connected with the duration of the treatment and the small number of available clinics. Though the method is effective, it is rather exclusive and inaccessible for wide use.
A study of the atmosphere of the speleoclinic and the mechanics of speleotherapy showed that the main factor which improves health is the smallest airborne particles of natural rock salt of a specific size and concentration. This fact led us to the idea of creating similar atmospheric conditions, though more accessible to patients.
We built the first Salt Room in the late 1980s at the Institute of Pulmonology in Leningrad, which created an atmosphere for the dry salt aerosol treatment. We named this treatment 'Halotherapy' ('halite' means 'mineral rock salt'), and the salt room was called the 'halochamber'. Before this, there had been other attempts to build facilities reproducing the conditions of natural salt caves. The walls of these earlier facilities that attempted to create an artificial microclimate were covered with all sorts of salt-based minerals (halite, sylvinite, salt bricks, etc.). However, studies have shown that salt walls do not create a dry salt aerosol microclimate. We realized that the only effective way to build a functioning salt cave was through the creation of a dry salt aerosol with the help of special equipment: halogenerators.
Asthma patients were the first to be treated in the Halochamber. Observing the patients, we discovered interesting changes in our clinical findings, and we received data from functional and laboratory research. We gradually expanded and refined the recommended uses and warnings, and studied the effects of dry aerosol salt. We also gradually increased the credibility of the method among pulmonologists.
After gaining experience in using Halotherapy, we concluded that in order to achieve safe and effective treatment, the salt aerosol's concentration and the particle size are of the utmost importance.
After the collapse of the USSR, we continued to develop Halotherapy, and in 1992, my colleagues and I created a scientifically substantiated method – controlled Halotherapy. We introduced and patented this new method of treating diseases of the respiratory system. It is based on the principle of selection and maintenance of defined salt aerosol concentrations, depending on the characteristics of the disease. As a result of a collaboration with Aeromed, an engineering company based in St. Petersburg, Russia, we created a fundamentally new generation of halogenerators, which control and provide salt aerosol to salt rooms in the appropriate amount.
Prior to our invention, it had been impossible to manage and maintain various levels of the dry salt aerosol concentration in the salt chamber. Our new halogenerators receive feedback from a concentration sensor and a microprocessor, which allows us to establish the necessary concentration of aerosol for our patients and maintain its level throughout the procedure. From covering walls with salt to using sophisticated halogenerators that produce a salt aerosol to maintain desired conditions, we labored for 20 years in order to develop the method of Halotherapy.
With the help of leading scientific institutions, we conducted research to substantiate the process and effects of controlled Halotherapy. I have summarized the results of these scientific and practical researches in my doctoral dissertation, 'Haloaerosol Therapy in the Treatment and Prevention of Respiratory Diseases'. As a lecturer for courses of advanced training for doctors, I have the constant opportunity to monitor the experience of using Halotherapy and receive new information. This helps to reveal prospective methods for improving the technology for its various applications.
Current Status, Problems, and Prospects of Halotherapy
Twenty years of experience has shown that Halotherapy really works. Its effectiveness has been proven not only by authors and researchers (as sometimes is the case concerning usage of new methods), but also by thousands of experts who apply the method in practice.
Since 1995, we have used an innovative medical technology we developed: controlled Halotherapy. Thanks to feedback technology, halogenerator controls the generation of salt aerosol in its on-line mode, which is supported by quantitative and qualitative information, considering the volume of the room, the number of patients in the room, and other factors affecting the salt aerosol concentration in the air.
Controlled Halotherapy allows for differentiated metering and control of the level of salt aerosol when performing the treatment. This is very important, as it allows for objective treatment, which enhances the effectiveness and safety of the procedure and optimizes the length of each session.
Controlled Halotherapy is authorized for medical use in Russia and the Baltic countries. The method was presented in textbooks for students and doctors and was included in the courses for the advanced training of physiotherapists and balneologists.
We have repeatedly presented our innovative technology for controlled Halotherapy at scientific forums of the Russian Respiratory Society, the Russian Society of Paediatricians, the European Respiratory Society (ERS), the International Society of Medical Hydrology, Balneology, and Climatology (ISMH), International Society 'Interasthma', and at leading Russian and international exhibitions of medical and health equipment in Moscow, St. Petersburg, many other Russian cities, Richmond, Hannover, Dusseldorf, Stuttgart, Bologna, and others.
The distinctive features of controlled Halotherapy are 1) that its effects are scientifically based; 2) it provides the ability to choose and control the levels of salt aerosol, 3) and its clinical effectiveness is proven, as confirmed by numerous studies and practical uses in various medical fields: pulmonology, allergology, paediatrics, otorhinolaryngology, and dermatology. In Russia, controlled salt rooms have been installed in thousands of hospitals and clinics, businesses, nursery schools, schools, and rehabilitation and spa centers.
Salt rooms began appearing outside of Russia and the Baltic countries10-12years ago. As opposed to Russia, where the method was developed by scientists and doctors, another path of development can be observed in other countries.
The first salt rooms were constructed by builders and were immediately available for commercial use without any reasonable professional supervision. People were attracted to the external imitation of salt caves of various designs. Despite the lack of the most important thing, dry salt aerosol, the owners of such rooms often claimed categorically and continued to maintain that it was possible to cure asthma, allergies, and many other illnesses in their rooms. The term 'Halotherapy' came into fashion, but it was being used in the entirely wrong way! These unscrupulous offers, practically changing the meaning and introducing confusion and distrust, have discredited Halotherapy and given rise to sharp criticism in the European medical community.
My friends and colleagues sometimes reproach me, saying I provide too little information about Halotherapy. I would like to say that in more than 20 years, I have written more than 200 scientific publications, chapters in monographs and textbooks, and dozens of papers at professional forums. But a quantum leap has currently taken place in this field: Halotherapy has become a phenomenon. It is a phenomenon on a massive scale and has many sides to it. With the expectations of commercial success, many people were caught up in this phenomenon, building a multitude of salt rooms. Outside of Russia, salt rooms are acquired and operated in the overwhelming majority of cases by people who are not connected to medicine in any way. I will not categorically state that this is improper and unacceptable. It is possible to find something positive in everything. After all, in order for Halotherapy to help many people in need, it has to be used widely. This means that it should be used in the fields of rehabilitation and respiratory care, and not only in an official medical facilities, as has happened in Russia. However, we should not forget that it must not cause harm, especially as it develops into a mass phenomenon. Millions of people, without knowledge or qualifications, use the Internet's deluge of data, in which it is possible to 'drown' trying to find reliable information.
At present, there are many different types of salt therapy, and many are called Halotherapy. The fashionable trend of salt therapy and the lack of reliable information about Halotherapy have led to the commercial spread of techniques, often based on pseudo-scientific information. Of the hundreds of salt rooms built in Europe and in the U.S., only a few have modern equipment for full, effective, and safe use of the method of controlled Halotherapy. Looking through video clips on YouTube, I was surprised to see salt rooms that looked like they were designed for entertainment, where children played with salt, and adults just relaxed. At the same time, it claims to heal, and that it is Halotherapy. This situation hinders the advancement of Halotherapy, and arouses distrust in the medical community.
It is my belief that based on already available substantial scientific research and clinical experience, Halotherapy has great potential for use in other countries. Of course, it is necessary to gain personal experience and determine the appropriate niche of medicine and rehabilitation, taking into account the traditional features of all the countries where this method will be used. Thanks to the possibility of a differentiated approach, controlled Halotherapy has the potential to be used in clinical, industrial medicine, and the health resort industries, as well as in cosmetology. This method can become an effective means of respiratory hygiene in the rehabilitative and preventative respiratory care. In recent years, Halotherapy has been used in the spa industry in many countries. There is great potential for the use of Halotherapy in family, and, especially, in children's rehabilitation. Practically, every field of medicine and rehabilitation could benefit from the use of the unique healing properties of dry aerosol of sodium chloride.
In order to promote various non-medicinal methods, including, of course, Halotherapy, more effectively and correctly, we have established the Institute of Respiratory Hygiene and Halotherapy. The Institute provides information support of technologies used in the rehabilitation of the respiratory system, develops guidance programs, and organizes training seminars.
By creating this site, I have set the goal of introducing Halotherapy to a wider audience, using the knowledge I have accumulated over the many years of my career. Without claiming comprehensiveness, I would like to help in the search for reliable knowledge in the areas where I have scientific and medical experience, and in which I can explain the actual situation and act as an expert.
Halotherapy is a non-drug treatment method, based on use of artificially reproduced microclimate, which parameters are close to the conditions of underground salt speleo hospitals. In the mid 80s  in Russia (Leningrad, now St. Petersburg), the method of indoor-reproduction of salt caves' microclimate was named "Halotherapy" (from the original Greek word "halite" or "rock salt").
Long-term experience in development and indoor-application of the microclimate of salt environment lead to further improvement and further development of Halotherapy method and the equipment used for its implementation. Today's standard is the method of controlled Halotherapy.
Controlled Halotherapy implies a treatment in the controlled respiratory environment of dry sodium chloride aerosol, ensuring a differentiated dosing and control over aerosol level during the course of the treatment procedure.
Further, in this and other sections of the website following different definitions and abbreviation will be used, having the same meaning:
Halotherapy: Halotherapy, controlled Halotherapy, HT, salt therapy.

Dry sodium chloride aerosol: dry salt aerosol, dry NaCl aerosol, DSA, DSCA, halo-aerosol, haloaerosol.

Salt room: salt room, controlled salt room, salt-chamber, indoor salt cave, halocomplex.

Halogenerator: dry salt aerosol generator, natural salt aerosol generator, aerosol salt generator.
Modalities of Dry Salt Aerosol at Halotherapy
Highly dispersed dry sodium chloride aerosol (halo-aerosol) of certain concentration range (from 1 to 10 mg/m3) with controlled parameters is the main acting factor of controlled HT. The majority of the particles, at least 80%, in generated aerosol environment are that of the respirable size (i.e. particles of 1—5 microns), which  acts most effectively in all segments of respiratory tract.
Physical Properties of Dry Sodium Chloride Aerosol
Due to the dispergational method of dry aerosol formation through a powerful mechanical impact on the salt crystals, such particles receive high surface energy and negative electrical charge. Certain physical-chemical properties of dry aerosol determine the nature of HT method, that is distinguished by a multi-component therapeutic effect of extremely small doses of the substance.
Aerosols, that contain a lot of particles larger than 5—6 microns in size, are not efficient for respiratory tract. At the same time, they can cause irritation and hyperactivity, especially with the patients prone to bronchospasmus. Aerosols, which contain large particles of dry salt aerosol (5-6 microns or larger), cause irritation of the upper respiratory tract (particularly with the propensity for mucosa atrophy) and integuments.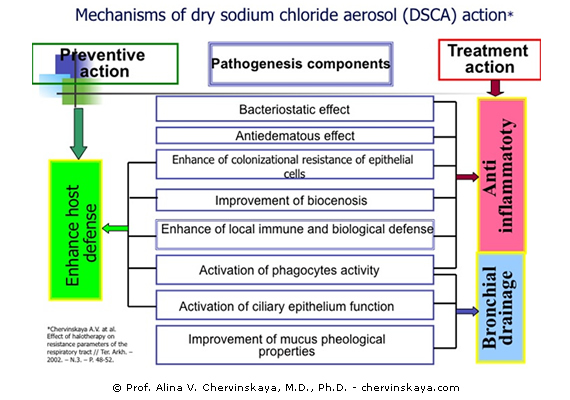 Effect of Dry Sodium Chloride Aerosol on Bronchopulmonary System
Examination of dry fine sodium chloride aerosol impact on various mechanisms of patho- and sanogenesis in respiratory tract showed that haloaerosol stimulates certain protective mechanisms of the respiratory tract, possesses a cleansing (mucolytic and bronchial drainage acting), anti-inflammatory and immunomodulating effects. Not only its antimicrobial (bacteriostatic) effect was proved, but also the change in a balance of conditionally pathogenic and normal microflora towards the improvement of biocenosis of the mucous membrane, that points to an enhancement of its resistance.
Thus, dry fine sodium chloride aerosol ensures mucolytic, bronchial drainage and sanitary acting, anti-inflammatory and immunomodulatory effects on the respiratory tract.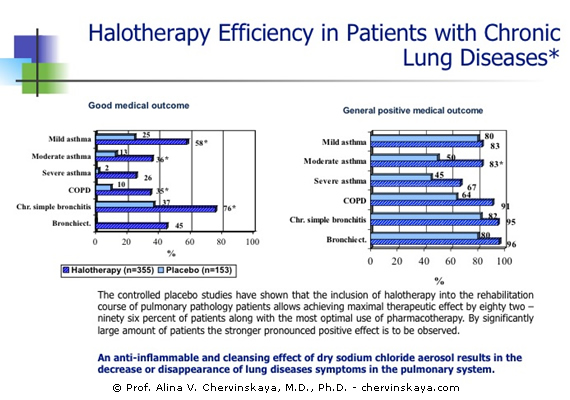 Halotherapy Efficiency in Patients with Chronic Lung Diseases
Controlled placebo-studies shown that adding this method to the set of restorative treatment methods and rehabilitation of patients with chronic bronchopulmonary pathology in the phase of recovery and stabilization enables to achieve the best clinical effect with 82 – 96% of patients with the most appropriate doses of medication, and contribute to the improvement of the quality of life.
HT is effective in  rehabilitation of patients after acute pulmonary diseases with prolonged sluggish and inflammatory processes, typical for protracted acute bronchitis and pneumonia, chronic bronchitis, bronchiectasis, after surgery, etc.
In pediatrics, HT is most commonly used for treatment and rehabilitation of kids with asthma (efficiency 75-85%), high efficiency is also achieved in the treatment of kids with recurrent bronchitis, especially in cases of obstructive forms. Therapeutic impact of HT enables to significantly reduce the prescription of antibacterial agents that helps prevention of dysbacteriosis and allergic reactions with kids.
Halotherapy for Children's Respiratory Hygiene at Kindergartens and Schools
HT has a good track record as a method of prevention and rehabilitation for kids when used in pre-school and educational institutions. Prevention courses for frequently ill kids reduce the risk of recurrent disease by 1.5-2 times and accelerate recovery.
The use of prevention treatments for tobacco smokers and those with exogenous risk factors enable to restore mucociliary clearance, eliminates early manifestations of obstruction and restore protection for respiratory tract.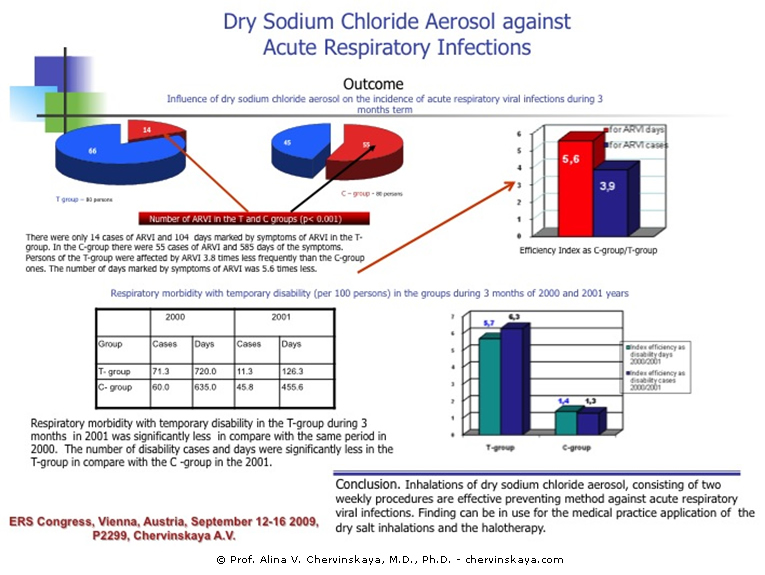 Dry Sodium Chloride Aerosol Against Acute Respiratory Infections
With only two weekly HT prevention courses within three-month time-period, a 1.5-2 times reduction of acute viral respiratory infections was achieved both with the pulmonary patients and relatively healthy persons, however exposed to the development of COPD.
Application of special salt aerosol concentration modes enables to apply HT not only for respiratory diseases, but also for ENT-pathology, as well as in the field of dermatology.
Controlled HT is successful for the treatment of skin diseases (atopic dermatitis, allergic dermatitis, eczema, psoriasis, etc.). Stay in halocomplex provides a positive cleaning action, restores skin biocenosis, enhance microcirculation, which is used in cosmetic applications.
Dry sodium chloride aerosol provides a therapeutic anti-inflammatory, anti-edema impact on the mucosa of the pharynx, nose and paranasal sinuses in chronic pharyngitis, rhinitis and sinusitis. Haloaerosol immunomodulatory effects in ENT-pathology is also proved. The use of HT as a method of conservative treatment of nose pathology diseases enables to achieve positive results in 72 – 87%% cases with the greatest efficiency for vasomotor and allergic rhinitis.
Halotherapy of Patients with Allergic and Vasomotor Rhinitis
The use of HT for many years, that has proved the safety of the method in terms of adverse effects on the cardiovascular system, enables the method to be applied for patients with COPD who have concomitant cardiovascular disease, including the groups of aged people. The use of HT for the patients with asthma and COPD older than 60 years with coronary heart disease, dyscirculatory encephalopathy enabled to achieve a positive clinical effect with the absence of any adverse reactions. Clinical observation and experience of controlled HT application showed a general favorable effect of HT on the cardiovascular system. Today the controlled HT is added to the rehabilitation programs for patients with cardiovascular pathology.
The impact of HT on various pathological processes in the respiratory tract and human organism as a whole and a possibility of selecting the parameters in controlled HT ensure the method adaptability to the conditions of different areas of medicine and healing.
Field of Halotherapy Application
Dosing of procedures with regard to dry salt aerosol concentration enable to apply this method for both pre-morbid states of respiratory diseases, and diseases at heavy stages of obvious obstructive with severe disabilities. This has laid down opportunities for a wider application of this method in the recovery and rehabilitation medicine, industrial rehabilitation, health spa field, kids' educational institutions. Today halocomplexes with controlled microclimate and installed in many hospitals, factories, kindergartens, rehabilitation and health recovery centers.
At present in the practical health care facilities more than 3200 Halocomplexes that use the technique of controlled curative microclimate are deployed.
Prolonged clinical application of HT method in various areas of medicine (pulmonology, allergy, pediatrics, otolaryngology, dermatology, and phthisiology) and the research of its mechanisms have led to the understanding that this method has a sound healing effect.
In recent years, a new area of controlled HT application in health sector has started to develop – HaloSPA®  technology. Stay in comfortable environment and a positive impact on psycho-emotional state create additional opportunities and advantages for the use of HT in Spa-centers during health vacations.
Of course, Halotherapy, like any other method that actively influence the human body, has its limitations. The systems with controlled halo-aerosol support its effective concentrations for the recovery, ensuring a minimal risk of possible complications. However, it should be noted that application of HT without medical caring, namely – HaloSPA® – requires a separate consideration.
In recent years, a new field of  application of dry sodium chloride aerosol (DSCA) has started to develop – HaloSPA® technology.
More and more people suffer from environmental pollution, and they turn to wellness and spa-centers looking for cleansing and sanitation of  airways, trying to escape from allergies, infections, and stresses. But none of the existing spa-methods have any direct sanitizing effect on bronchial tubes and lungs. And it turns out, that the only body system, which interacts with the polluted environment at most, lies beyond the spa influence.
New HaloSPA®   technology is brings the natural health-improving factors closer to a man. The core of HaloSPA®  is creation of controlled salt aerosol healing micro-climate indoors, in the salt rooms.
Our research of efficacy of DSCA application on practically healthy persons (i.e. tobacco-smokers, persons with risk factors of respiratory diseases, children in preschools and schools) have revealed the fact, that DSCA is helpful and safe. The results of research demonstrated the stimulation of bronchial drainage function and sanitary action of DSCA in persons with respiratory risk factor. DSCA relieves the main clinical signs of tobacco smokers (character of cough and sputum), of tobacco smokers owing to decreased colonization activity of pathogenic microorganisms and increased SIgA. In persons with respiratory risk factors, it improves host defense mechanisms and strengthens resistance of mucous membranes.
DSCA works as a "bronchial brush". HaloSPA® opportunity to provide respiratory hygiene is the necessary element of spa-influence. DSCA has beneficial influence not only on respiratory system, but on skin and hair as well, providing healing and cosmetic effect.
HaloSPA® provides multi-purpose health improvement for lungs, skin, and immune system, and considerably increases and enriches the range of health-improving services. Usefulness of application of DSCA in a salt room is combined with comfort of the procedure. Stay in comfortable ambience of a salt room and positive effect of HaloSPA®-procedure on psycho-emotional state, create additional opportunities and advantages for application of DSCA in spa and wellness centers during health vacations.
Since 2006, technology of HaloSPA® began to spread. Method began to be widely applied in spa industry and resorts in Europe, in America, in Asia and in Australia.
Of course, HaloSPA®  has its limitations, just like any other spa method, that actively influences the human body. For application of health-improving HaloSPA® procedure, the only suitable devices (i.e. halogenerators) are the ones that (a) produce DSCA of certain physical characteristics; (b) support the dosing of dry salt aerosol; (c) maintain chosen DSCA concentration during the flow of procedure. Application of HaloSPA® with such devices secures the positive effect of the procedure and minimizes the risk of possible complications.
The most advanced method of treatment with the help of salt aerosol is a controlled Halotherapy.
Controlled HT ensures the establishment and sustaining all method parameters, differential dosing and control over the level of salt aerosol in the course of a treatment procedure.
Halogenerator HaloPrima-o2M (Halomed UAB, Lithuania)
Generation, dosing of dry salt aerosol and control over aerosol environment are provided by the dosing halogenerators with concentration probes.
Natural salt grinding is executed right inside the devices, and derived salt particles acquire high surface energy. Dry salt particles are picked up by an air flow generated inside the halogenerators, after that are separated and supplied by an air stream through a duct into a treatment room. The inbound sodium chloride aerosol contains mostly the respirable particles (80% at least). Halogenerators design enables setting of different levels and ranges of salt aerosol concentrations within the limits from 0.5 to 10 mg/m3 (several concentration modes are recommended for different groups of patients in accordance with the method of controlled Halotherapy).
The level of aerosol concentration is being constantly checked. Aerosol environment is extremely agile and fast responsive to various factors (number of patients in a room, their respiratory volumes, current temperature, humidity, air velocity, etc.). That's why a probe shall be installed in a room for continuous monitoring of mass aerosol concentration. To sustain microclimate parameters, a feedback system is deployed. Halogenerators' microprocessor processes the signals from a probe and sustains a required salt aerosol concentration, automatically adjusting to varying conditions in a room. A microprocessor unit can also provide control of lighting and ventilation. In a treatment room a microclimate with temperatures 20-24ºC and humidity 40-60% is sustained.
No special substances are required for grinding and extracting dry salt aerosol, a consumable salt is used (without iodine additives and anti-caking agents) or chemically pure pharmacopoeial salt. This salt enjoys a permanent consistency and a small share of premixes.